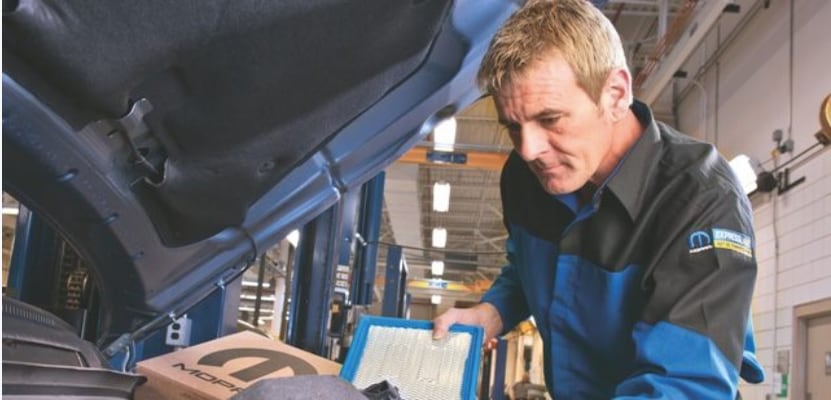 It's an unfortunate fact that if you own a car, SUV, or truck for any significant length of time, you will eventually need to replace a part due to wear and tear. Other times, drivers may be looking for new parts or accessories for cosmetic reasons, or to add a feature not available when they originally purchased the vehicle. Whatever the reason may be that you're looking for genuine Chrysler, Dodge, Jeep or Ram auto parts online, you can give the parts department at our dealership in Peotone, IL a call to find them. We'd love to hear from you at (708) 377-2026.
Mopar® Parts
Mopar® stands for "Motor Parts" and is the term used for auto parts created for Fiat Chrysler brands, including Chrysler, Jeep, Dodge, and Ram. The parts center at Pearl CDJR in Peotone, IL maintains an inventory of genuine Mopar® parts and accessories for sale and for use in repairs. Since these parts are identical to the ones originally installed on your vehicle at the factory, you can be assured that the fit and quality will be perfect every time.
Parts Specials
Our dealership auto parts store offers coupons for shoppers in the Peotone, IL area looking for new car parts and Chrysler, Dodge, Jeep, or Ram accessories. Before you buy a new part for your car, truck, or SUV, make sure to check our parts coupons and accessory specials to see how you can save money. 
Order Chrysler, Dodge, Jeep, or Ram Parts in Peotone, IL
Ordering parts is easy at Pearl Chrysler Jeep Dodge Ram. Just let us know the part you are looking for and what vehicle it will be installed on, as well as a way to contact you, and we'll put your order through. You can order your part for pick up, or we can install it for you. If you are unsure about what part to order, don't hesitate to call (708) 377-2026 and one of our parts specialists will talk with you about the best solution for your repair or customization needs.