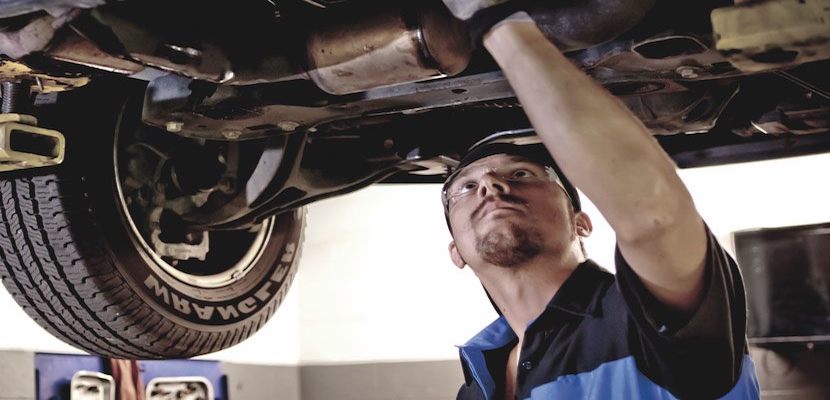 Are you trying to find an oil change center or tire repair shop for your Chrysler, Jeep, Dodge, or Ram vehicle? Our dealership in Peotone, IL is ready and happy to provide auto maintenance on cars, SUVs, and trucks of all kinds. Just call (708) 377-2026 to be connected with an auto service technician today.
Chrysler, Dodge, Jeep, and Ram Maintenance Schedule
It's important to follow your vehicle's maintenance schedule with regular service appointments to maintain your vehicle's health and keep it rolling smoothly past 100,000 miles. You will find the exact maintenance intervals for your model and year included in your vehicle's Service Manual, but in general these are good rules to follow:
Once a month
Check your tire pressure
Inspect the tires for wear or damage
Inspect your battery
Check your fluid levels
Every 3,000 miles
Change the engine oil and oil filter
Inspect the air filter
Every 6,000 miles
Every 12,000 miles
Inspect the brake pads and rotors










Chrysler, Dodge, Jeep and Ram Oil Change

Oil changes are necessary to keep your engine clean and prevent it from overheating. While it can be easy to let an oil change slip your mind, if you leave it for too long, you could be facing serious mechanical problems! If you are due for an oil change, make an appointment today at Pearl Chrysler Jeep Dodge Ram. With our express lane service, we can your oil changed quickly and get you back on the road in no time.

Chrysler, Dodge, Jeep, and Ram Brake Service

Don't put yourself in unnecessary danger. If your brakes feel soft, grind or squeal, or if you've noticed it takes longer to come to a complete stop than before, make an appointment at the Pearl Chrysler Jeep Dodge Ram service center for a brake inspection. If it's determined that you need new brake pads or rotors, our technicians can easily make the repair using genuine Mopar® parts identical to those originally installed at the factory to provide long-lasting performance. 

Chrysler, Dodge, Jeep, and Ram Tire Replacement

Your tires are the only parts of your vehicle that come in contact with the road. This means they see more wear and tear than any other part of your vehicle, but also that they're one of the most important parts to keep maintained. If your tire tread is worn down, your vehicle will lose traction. Our service center can swiftly replace your tires with new ones that fit your model precisely.

Schedule Your Car Service Appointment at Pearl CDJR

If you need auto service or repairs done, then make your appointment at Pearl Chrysler Jeep Dodge Ram. Our simple appointment scheduler only requires your contact and model information, with additional fields for you to indicate when you'd like to come in and what service you need performed. You can also find service specials and coupons on our website, so don't forget to check them before you come in!